Location
Edit
Gallow Green, Hecate's Replica Bar.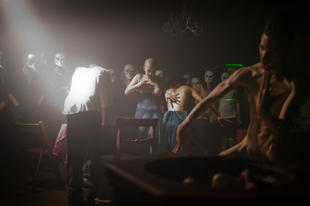 Character in the Scene
Edit
Three witches; Macbeth; Hecate.
At some point, the taxidermist/Bargarran stands outside the door, trying to lure Audience into the rave; the tailor/Fulton also observe the rave for a while, until he is shocked by what he has seen.
Description
Edit
Three witches enter Hecate's replica bar, preparing for the second prophecy to Macbeth. Hecate sits by the nearby table, manipulating the whole scene. The strobe light flashes, Boy witch transforming to his animal form. At sometime during the scene, Macbeth rush in the room, joining the rave. The witches shows him a bloody infants, possibly alluding to the prophecy in Shakespeare's play. At the end of the prophecy, three witches, exhausted, sitting around table and showing Macbeth a model tree, possibly symbolizing the Birnam wood.
Macbeth storms out to speakeasy to murder Banquo; Boy witch and Sexy witch left separately; Sexy witch stays with Hecate.
Ad blocker interference detected!
Wikia is a free-to-use site that makes money from advertising. We have a modified experience for viewers using ad blockers

Wikia is not accessible if you've made further modifications. Remove the custom ad blocker rule(s) and the page will load as expected.