Location
Edit
Gallow Green, Hecate's Replica Bar.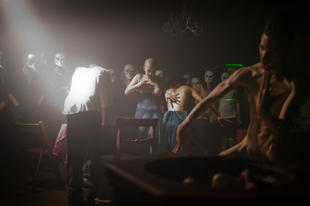 Character in the Scene
Edit
Three witches; Macbeth; Hecate.
At some point, the taxidermist/Bargarran stands outside the door, trying to lure Audience into the rave; the tailor/Fulton also observe the rave for a while, until he is shocked by what he has seen.
Description
Edit
Three witches enter Hecate's replica bar, preparing for the second prophecy to Macbeth. Hecate sits by the nearby table, manipulating the whole scene. The strobe light flashes, Boy witch transforms into his animal form. At sometime during the scene, Macbeth rushes in the room, joining the rave. The witches show him a bloody infant, possibly alluding to the prophecy in Shakespeare's play. At the end of the prophecy, three witches, exhausted, sit around table and show Macbeth a model tree, possibly symbolizing the Birnam wood.
Macbeth storms out to speakeasy to murder Banquo; Boy witch and Sexy witch left separately; Sexy witch stays with Hecate.
Boy witch goes to shower and showers the blood off himself before collapsing. He feebly reaches for a towel before motioning a member of the audience to grab it for him.