One of the three witches following Hecate's command.
Notable Feature
Edit
She usually wear a green dress with ruffled shoulder belt.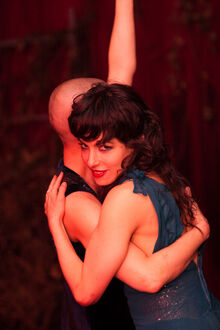 TBA.
One on One:
Edit
Spoiler warning!
There's some content available containing spoilers.
Will occasionally lure a guest into Agnes/Mrs. Dewinter's bedroom, finding a candy from guest's hair and feed it into their mouth. Then she lure them through the "Narnia" closet and into funeral home, let them witness her dance with the Tailor/Fulton.
Ad blocker interference detected!
Wikia is a free-to-use site that makes money from advertising. We have a modified experience for viewers using ad blockers

Wikia is not accessible if you've made further modifications. Remove the custom ad blocker rule(s) and the page will load as expected.