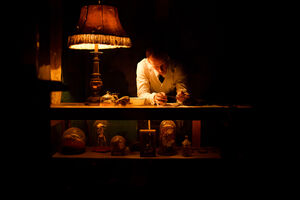 The taxidermist in Gallow Green, Hecate's accomplice. His name is implied to be James Bargarran. He seems to have an unspecified relationship with Lady Macduff.
Notable Features
Edit
He operates elevator during the first loop. He wears black sleeves band on both arms, sometimes he put on a maroon jacket, similar to Porter's uniform.
TBA.
One on one
Edit
Spoiler warning!
There's some content available containing spoilers.
After he take one guest into bathroom near his back office, he turn off the light, the whole room turning pitch dark. He suddenly shows up right in front guest's face, displaying two different color candies. He let the guest choose one, then whisper to guest's ear (quotes from Shakespeare's Macbeth):
I am one, Whom the vile blows and buffets of the world Have so incensed that I am reckless what I do to spite the world.
So weary with disasters, tugged with fortune, That I would set my life on any chance, To mend it or be rid on 't.
He then shoves audience to Hecate's bar for the rave/second prophecy.