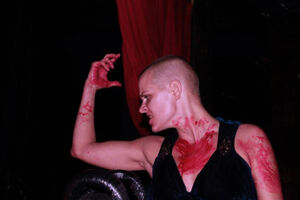 Backstory
Edit
One of the three witches working at the command of Hecate. The character is presumably based on Agnes Sampson, one of the accused in the North Berwick witch trials.
Notable Feature
Edit
NOT necessarily bald, her hair style depends on the actresses who plays this role. At the beginning she wears a wig; as the show proceeds, she'll remove the wig and appears to be bald. She usually wear a very deep green dress, almost appears dark.
Bald witch delivers the first prophecy to Macbeth along with sexy witch and boy witch, then she goes haunting in Banquo's nightmare in the crypt. She then set up the dancing floor and attends the ball with most of the main characters. After the ball, she transform to her "Bald" state, fighting with MacDuff on dancing floor. She heads up to hotel, taunting Banquo. Then she goes up to Gallow Green. Not long after her dance with boy witch on pool table, the Rave/Second prophecy begins.
Bald witch heads down to the banquet after cleaning herself up in Apothecary.
One on One
Edit
Spoiler warning!
There's some content available containing spoilers.
After a dance/fight scene with Macbeth which takes place in the hotel check in area, the Bald Witch jumps behind the counter and seems to disappear. You are filed in her pool of applicants if you follow after her. The Bald Witch is hiding inside a secret closet. Once found, she comes out of the door and begins to kiss you on the neck.
She also washes herself off (I'm assuming after the orgy scene) in a small room filled with herbs and animal skins. Halfway through, she approaches you and hands the wet washcloth to you. She turns around, and you wipe the blood off of her back. She takes the washcloth and returns to her washing bin to finish up. A few minutes later, she gets back up and kisses you on the neck before leaving the room to attend the banquet.
During the dance party (for the King?), she will occasionally pull one audience and slow dance with you, kissing you on the neck.