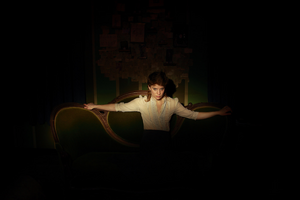 Backstory
Edit
Agnes has come to Gallow Green to look for her sister Grace. She also appears to shares something in common with the second Mrs. De Winter from Rebecca. The character's name comes from one of the accused to Paisley witches trial.
Notable Feature
Edit
She'll be wearing a knee length skirt and a beige blouse, carrying a suitcase around.
Plot line
Edit
One on One
Edit
Spoiler warning!
There's some content available containing spoilers.
Within the locked room, she speaks to the person the opening monologue from Rebecca, lead the person to a wardrobe, removes their mask, and places a locket around their neck. She then whispers the end of the speech in their ear, replaces the mask, and locks them in the wardrobe that has a false back (the "Narnia door").
I believe she represents the equivalent of one of the siblings from King Duncan's sons. She makes reference to moonlight and Fleance (Banquo's son) also references the moon in regards to time. Additionally, she said meet me back at the manderly multiple times before the end of the encounter - it points to a rendezvous such as the one between Fleance and Banquo. (" Fleance: the moon is down; I have not heard the clock.")
Ad blocker interference detected!
Wikia is a free-to-use site that makes money from advertising. We have a modified experience for viewers using ad blockers

Wikia is not accessible if you've made further modifications. Remove the custom ad blocker rule(s) and the page will load as expected.